Acknowledgement of Authors
To authors of education who inspire educators we are grateful for your research and information you provide. We have no words to describe how we feel.
Education Authors who Inspire Me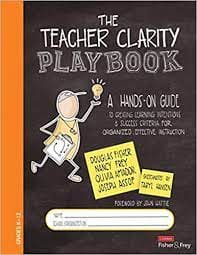 How I extract ideas from Books
The Teacher Clarity Playbook inspires me to create an educationblogdesk website. I like the cycle Doug Fisher has shown that starts from reading the standard, identifying concepts and skills, all the way to master learning. I use the cycle as a foundation to start writing my blogs.
I was interested in Chapter 2 of Learning Target. It gave me the idea to write the Raise the Trajectory of Student Learning blog, and it was popular among readers in Pinterest and LinkedIn.
I wanted to write how to break down the standards. So, I used Standards-Driven Classroom to show what it looks like. What You need to Know Standards Based Planning shows the process. But I still feel like I was missing some details, and it was not showing the whole picture. When I found Developing Student Ownership, I felt like I hit the jackpot. The book shows the strategic learning practices for curriculum, Instruction, Assessment, and climate. It gives a comprehensive look in these 4 areas. You can find blogs on curriculum, instruction and assessment from my blog posts.
From Student Ownership of Learning, I began to branch out to a Project-Based Learning approach, professional learning community, and student agency. I am still learning about PBL and Student Agency. As I learn more from PBL and Student Agency, I will provide more information.
Conclusion
I want to thank you for these books that made me think and gave me the ideas to write my blogs.
In the mean time you can look around my website and choose books and ideas that resonate with you.