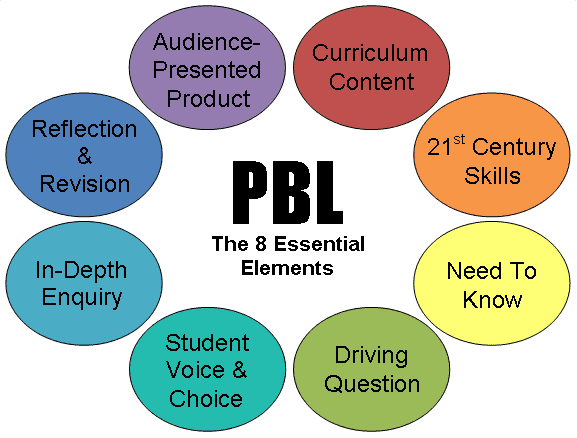 What is Project Based Learning?
Project-based learning is an educational experience that encourages students to develop critical thinking, collaboration, and problem solving skills while working on hands-on projects. But what is the key idea behind this innovative approach to teaching? It's simple: equip children with the skills they need to succeed in a rapidly changing world. By engaging them in real-world, active learning experiences that are meaningful and challenging, project-based learning can open up a world of possibilities for students of all ages. From exploring topics in history and science to designing a prototype for a new invention, project-based learning can transform how we teach and how our students learn.
What are the key ideas of project-based learning?
Project-based learning is an instructional approach focused on teaching students how to think critically, work collaboratively, and problem-solve through hands-on projects. The key idea behind this approach is to equip children with the skills they need to succeed in a rapidly changing world by providing them with meaningful and challenging real-world experiences. Developed by John Larmer at the Center for Ecoliteracy in San Diego, project-based learning involves a series of projects that allow students to explore a wide range of topics, from history and science to design and engineering. In addition, project-based learning provides students with the opportunity to apply their knowledge to real-world problems or challenges, while engaging them in deeper learning experiences. Through its emphasis on student engagement and real-world application, project-based learning has become the gold standard in today's classrooms.
How to Design PBL for Student Confidence and Competence
Michael McDowell, author of Rigorous PBL by Design, uses Gold Standard PBL: Essential Project Design Elements by John Larmer, John Mergendoller, and Suzie Boss (2015) as quality PBL criteria: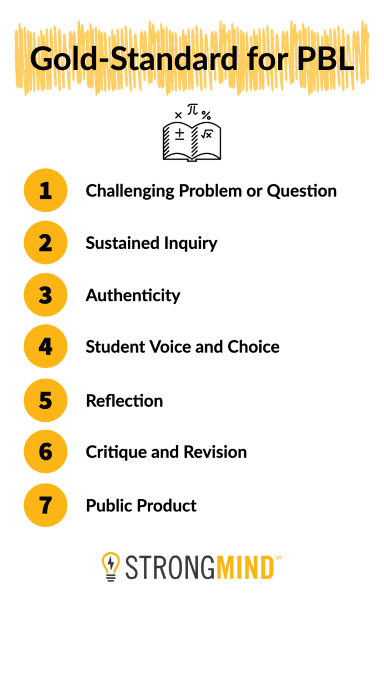 The quality PBL criteria, as McDowell (2017) notes, ensures teachers align complex tasks, planning and design, problem solving, decision making, creating artifacts, and communicating results with a challenging problem or driving question. McDowell describes driving questions that require students to understand the central concepts and principles of a discipline. McDowell states "typically, the driving question is presented at the beginning of the learning sequence and is used to foster a student's ability to connect prior knowledge and project activities to the academic outcomes of the project." (pg. 24)
How do you make PBL effective?
In order to make PBL effective, McDowell suggests to avoid two pitfalls:
Scratching the Surface pitfalls are typical errors that teachers make when they meet Gold Standard Elements but lack sufficient implementation of the three design shifts stated in this book (clarity, challenge, and culture; see Figure 2.1).
Missing the Mark pitfalls are those errors where the three design shifts are completely absent from project design and project implementation and typically lack Gold Standard Elements.
Scratching the Surface
McDowell uses this example:
Project Snapshot: Nairobi National Park Project is one of the best examples of the conflicts surrounding wildlife and humans. The Park is almost completely fenced in, except for the southern boundary. Many people in Kenya want the southern boundary fenced to reduce public safety threats and allow housing and transit. However, fencing the park would create one of the largest zoos in the world, creating significant challenges to the normal behavior of wild animals. Drawing on what we know about carrying capacity, food chains, and food webs, the proposal for fencing in the park could negatively affect the animals that live there. On the other hand, given the exponential growth of the Kenyan capital, the demand for housing land around the park will continue to rise.
Key Question: How should the Kenyan Government approach such an important issue?
Nairobi National Park Project was designed for students to understand how specific principles of biology and environmental science interplay in a real life situation and how to apply those principles into a feasible solution. Depending on how the project is designed and implemented, the Nairobi project may or may not have a substantial impace on student learning.
McDowell states "if designed ineffectively, students may struggle with understanding the core learning intentions and success critieria of the project and may spend more time focused on the context of the project (i.e., Nairobi National Park) rather than the biology and environmental science standards."
Another important point McDowell pointed out is that "if teachers have not planned for continuous assessment of learning and prepared for targeting specific instructional and feedback strategies for learners based on performance, then one can expect a lack of substantive growth in learning".
McDowell suggests that if you want to make a high impact on learning, move from scratching the surface to a deeper level of design, ask the following questions:
Have teachers designed and clarified to learners clear learning intentions and success criteria that are aligned with content complexity (i.e., surface, deep, and transfer) and independent of context?
Are teachers prepared to continually identify where students are in their understanding relative to learning intentions and success criteria?
In light of the evidence they find, have teachers prepared for actions (e.g., instructional approaches and types of feedback) that target student learning needs?
Are we building students' capacity to identify their level of understanding and take action to improve their learning and that of others?
Learning intentions are best thought of as brief statements that explicitly describe what students should know (i.e., content) and be able to do (i.e., skill).
Success criteria specify what students must demonstrate at the surface, deep, and transfer levels to meet learning intentions.
Important point made by McDowell:
To go deeper, teachers must clarify the learning intentions and success criteria, use inquiry to identify student progress, target instruction and feedback according to a learner's performance level, and develop a culture that focuses on understanding and using performance data to improve.
Missing the Mark
McDowell gives an example of missing the mark by Mike Schmoker (2011). McDowell cites:
"He is always innovating. He has initiated interdisciplinary teaching, heavy use of technology, hands-on activities, and lots of "project based learning." His students do very little reading and even less writing. But they spend lots of time going to and from the library, often preparing, making, and then listening (listlessly) to each other's flashy but unfocused PowerPoint presentations. And like the majority of the teachers at his school, he doesn't even realize that his lessons and projects are devoid of modeling, guided practice, or checks for understanding. Nonetheless, the teacher is highly regarded for his emphasis on "active" learning, on "integrating technology" into his "project based" assignments." (p 55)
McDowell describes the teacher in the above scenario as not using assessment practices to identify student progress and then, in light of that data, making clear instructional decisions that are known to substantially impact a child's learning. The teacher is spending too much time on project management or process-oriented criteria such as completing a project, finishing tasks, and searching, collecting and reviewing sources.
So, how can we ensure that PBL achieves a greater effective size? McDowell suggests teachers consider a few steps in the project design process:
Voices From the Trenches
Steve Zipkes
Founder and President of Advanced Reasoning in Education, LLC
Founding Principal, Cedars International Next Generation High School
Founding Former Principal, Manor New Technology High School
Austin, TX
advancedreasoningined.com
cedars-academy.org
I have been working in PBL schools for well over 10 years. We decided to implement schoolwide project-based learning at Cedars International Next Generation High School based on the belief that the pinnacle of learning is not mastery but rather a student's ability to transfer knowledge and skills to other situations and environments. PBL is a vehicle that can effectively move students to that level of learning. In addition, PBL provides students with the opportunity to take ownership over their own learning, tackle authentic real-life problems, and collaborate with others. Our school places a premium on these outcomes.
We have observed instruction in PBL that is related to the pitfalls in the book—teachers sometimes miss the mark by not teaching the key standards; or they only scratch the surface of learning by not ensuring that students master the core content or develop the confidence to monitor their own learning. We have continued to put a vested effort in ensuring that students learn the content through appropriate scaffolding and effective teaching. We are determined to balance authentic products with rigorous understanding. Or to put it differently, blend rigor with relevance. We do this by presenting challenging problems, giving students an opportunity to engage with content, identifying their understanding, and then adapting our instruction based on their needs. I think PBL practice in the past or, frankly, done incorrectly has been related to "free will" and "exploration" with a mindset of "just figure it out."
In the end, deeper learning requires a deep understanding of content. This book, bottom line, is about kids learning content, and our efforts in Texas have shown effective results because we ensure that students learn core content and engage in creating authentic products.
McDowell believes teachers' work is to focus on children's thinking, to make that thinking visible and to act on that thinking to move learning forward. McDowell emphasizes that PBL must be effective, it needs to be anchored to thinking, to the science of learning, and to high-impact teaching practices. To do all this, you need to shift teacher roles to focus on student learning.
Below are two blogs that give you more information on PBL:
Reference
McDowell, M. (2017). Rigorous PBL by Design. SAGE Publications, Inc. (US). https://bookshelf.vitalsource.com/books/9781506359014