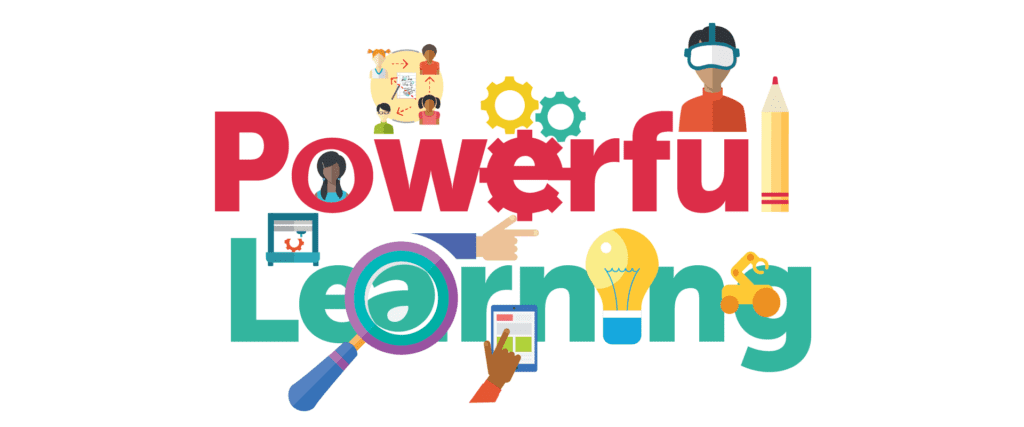 What is Powerful Learning?
Powerful Learning is the design of learning experiences that facilitate deep student understanding. Learners are immersed in a culture of thinking and understanding is the primary goal. This requires a growth mindset and habits of mind, such as open-mindedness and persistence, as well as a thinking disposition, including critical and creative thinking. It incorporates the design and implementation of authentic, rigorous units of study based upon the curriculum, integrating strategic instruction and a focus on creating engaging learning environments and learning connections. It is the integration of all these dimensions that supports deep understanding of curricular goals and enables students to acquire a disposition for all learning, now and in their future.
Goal of Powerful Learning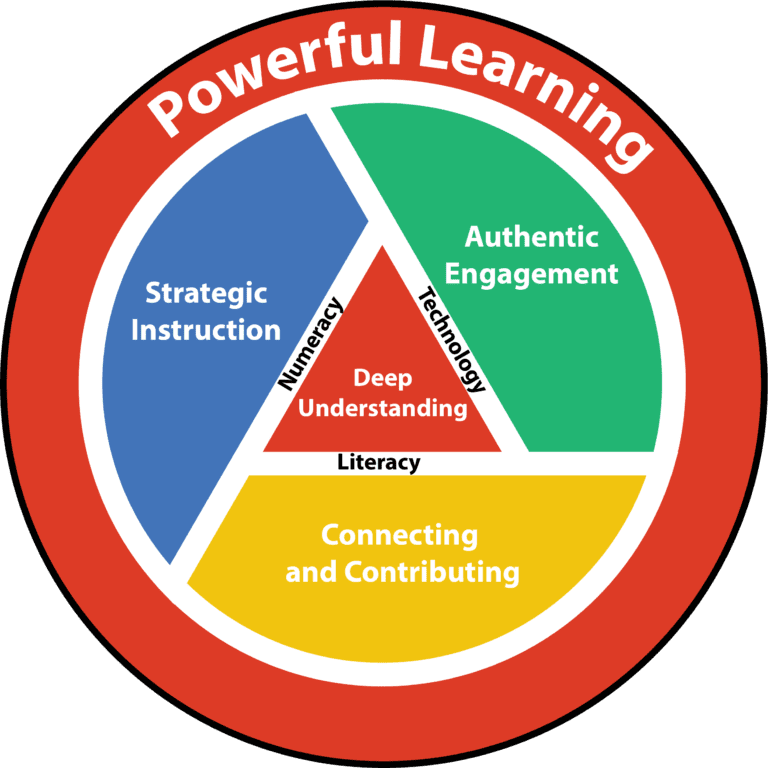 The goal of powerful learning is to design learning experiences that will enable our students to develop a deep understanding. This way, students will grow and discover and change-change their thinking, change themselves, and help change the world.
Key Components of Powerful Learning
Powerful learning is the design of learning experiences that help with deep student understanding. It is clustered around three drivers:
Strategic Instruction: The first driver, Strategic Instruction, incorporates high yield, evidence based strategies and practices designed to improve student learning. This part includes Assessment for Learning strategies and strategies designed to foster thinking.
Authentic Engagement: The second driver, Authentic Engagement, defines how to set up the culture and environment to foster Powerful Learning. It includes how to create a sense of belonging and well-being, the role of a growth mindset and how to build a culture of thinking in our classrooms.
Connecting and Contributing: The third driver, Connecting and Contributing describes the connections with oneself between students and teachers, students and students, students and their parents, and local and global communities. Relationships are the foundation of these connections as students extend their learning beyond the classroom.
To ensure the development of deep understanding of the curriculum essentials, elements of Powerful Learning are woven throughout each driver. These essentials are foundational to the planning of lessons and instruction, and are necessary to achieve Deep Understanding.
Deep Understanding
Design tasks that allow for choice, creativity, and the challenge of collaboration helps learners to achieve deep understanding.
Powerful learning recognizes the importance of a balance between surface, deep, and transfer learning. This way, a balance between teaches for knowledge and teaching for understanding.
How do we get to Deep Understanding?
Learning that involves surface, deep and transferring ideas.
Learning that sticks.
Learning built on innovation relative to key problems and issues.
Learning that engages the world to change the world.
Learning that creates citizens of tomorrow today*
*Adapted from pg. 160 Fullan, Quinn & McEachen, 2018
Deep Understanding occurs in a thinking classroom where students are provided powerful and purposeful tasks. It is achieved when students actively and intentionally construct their understanding of concepts and can make connections between ideas and concepts. "students put knowledge into use and assimilate or own the ideas if they are to understand them" (pg. 83, Gini-Newman and Case 2016). Students are provided "regular opportunities to reflect upon and explain how new learning deepens their understanding of a big idea and students are encouraged to draw conclusions or reason based upon criteria about possible answers to an inquiry question" (pg. 89, Creating Thinking Classrooms- Garfield Gini-Newman and Roland Case).
My Takeaway
Powerful learning reflects project-based learning because it encourages choice, creativity, thinking, and reflection. I felt my blog included the important pieces of powerful learning, and why I name my blog page Powerful Learning.
Collaborative Relationships for Learning Improving Students' Relationships with Teachers to Provide Essential Supports for Learning In their book, Partnering with Students, authors Mary O'Connell and