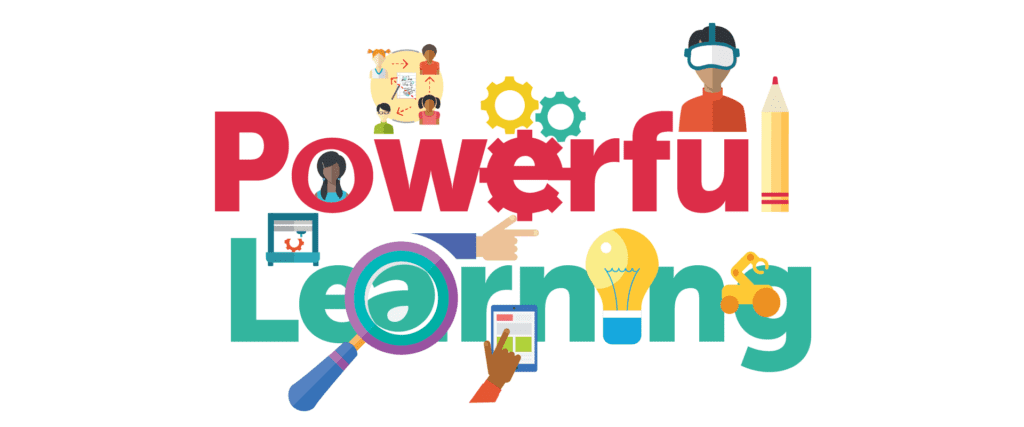 What is Powerful Learning?
Powerful Learning is the design of learning experiences that facilitate deep student understanding. This design focuses on three drivers: Strategic Instruction, Authentic Engagement, and Connecting and Contributing. To ensure the development of a deep understanding of the curriculum essentials, elements of Powerful Learning are woven throughout each driver. These essentials are foundational to the planning of lessons and instruction, and are necessary to achieve Deep Understanding.
The first driver, Strategic Instruction, incorporates high yield, evidence based strategies and practices designed to improve student learning. This component includes Assessment for Learning strategies, as well as strategies designed to foster thinking.
The second driver, Authentic Engagement, defines how to set up the culture and environment to foster Powerful Learning. It includes how to create a sense of belonging and well-being, the role of a growth mindset and how to build a culture of thinking in our classrooms.
The third driver, Connecting and Contributing, describes the connections between students and teachers, students and students, students and their parents, local and global communities. Relationships are the foundation of these connections, as students extend their learning beyond the classroom.
Designing Learning
When designing Powerful Learning experiences, teachers use high impact strategies with an intentional sequence of learning activities. These activities start with learning outcomes and align with essential questions and big ideas. Assessment for Learning approaches and strategies are embedded, along with consideration for modifications and adaptations to meet the diverse needs of learners. Purposeful, ongoing assessment ensures students achieve a deep understanding of the core learning goals/skills, and is imperative to student success. To do this, the concepts and big ideas are identified and made explicit. This type of intentional design allows teachers to consider the scope of student needs in their classroom, and therefore allows multiple entry points so that all students can participate in the experience. Core competencies such as: collaboration, communication, and critical thinking are integrated when designing units.
You will see powerful learning experiences reflected in my blog posts.
Hexagonal Thinking What is Hexagonal Thinking? Hexagonal thinking involves students recording ideas, questions or facts on hexagonal tiles and arranging them so that related tiles are next to each other, essentially building a web of connections. It can be used to provide students with an effective way to launch project-based-learning, and students can go after…
Continue Reading How to Develop Deep Learning Using Hexagonal Thinking