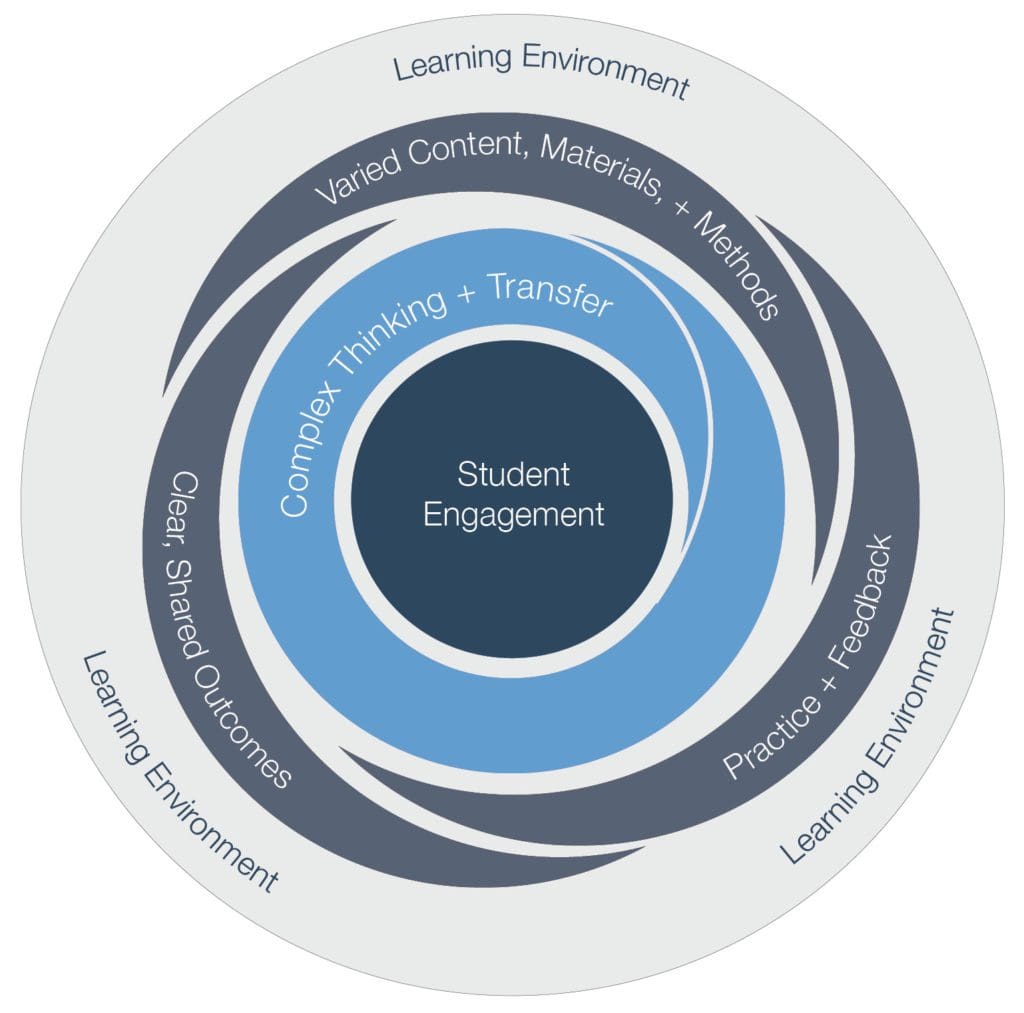 The Elements of Effective Instruction
According to the article "The Elements of Effective Instruction" by Great Schools Partnership, these 5 elements of instructional practice are intertwined to foster student engagement with the ultimate goal of improving student outcomes and achievements, and it is a necessary foundation for fostering student ownership of learning. So, what happens if you don't follow any of the 5 elements? Classroom Chaos!
Let's consider the first element: Student Engagement

You can see that engagement is part of the student agency. When you have meaningful activities relevant to learners, given by their interest, and self-initiated with appropriate guidance from teachers, it gives students voice and often choice in how they learn.
The elementary school setting I was in the school culture is more of compliance. If you don't do your homework, there will be consequences. It is more of a traditional teaching style. The big disadvantage is no motivation to learn. On the other hand, students are compliant.
When you don't have student engagement, you are doing disservice to students, because "engagement is more about what you can do for your students," said George Curos. Without student engagement, there is no way students can figure out what they can do for themselves (Empowerment).
If you want to learn more about Engagement vs Empowerment, read the article "Student Engagement vs Empowerment". I found this chart from the article that gives advice on empowerment: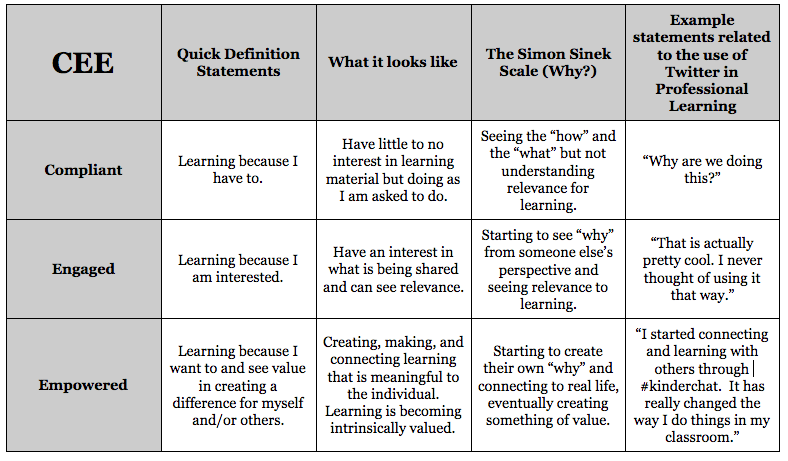 What happens when students do not feel safe and respected in the classroom? There is no engagement and risk taking from the students.
This leads to the next element: Learning Environment
According to "The Elements of Effective Instruction," article the learning environment is a shared domain between students, teachers, families, and other partners. Positive and meaningful relationships are the foundation of a productive learning culture. I understand this is a big task for teachers to take on, considering the pressures from COVID-19 in the past 3 years, and teachers are feeling burnt-out.
I experienced burnt-out myself in the last few years of my teaching career. You feel depressed and alone. You cannot think straight. It is just a vicious cycle. I do not want any teacher to experience burnt-out. So, please take care of yourself mentally and physically.
The key here is to establish positive relationships with families and students. I found this Brain Blast Teacher-Student Relationship Building Graphic from Twitter. It gives ideas, do's and don'ts.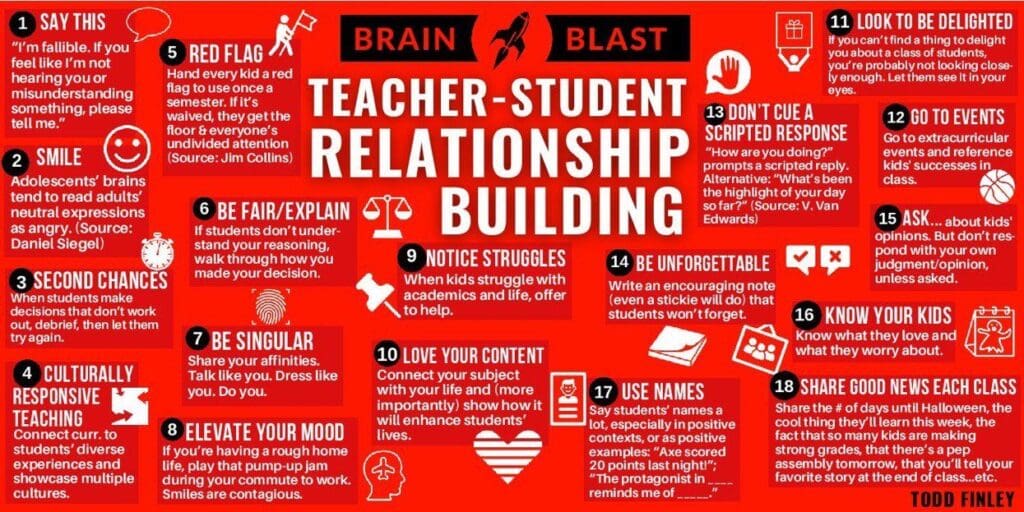 My Blog Post: How to Develop Student Ownership What They are Learning mentions Strategic Learning Practice Curriculum 1 and it states:
"Each and Every student is supported by relevant standards with Measurable and Achievable Outcomes that are Accessible and Drive ALL Learning."
You notice the words "Measurable and Achievable Outcomes" in the strategic learning practice. This is another element of effective instruction: Clear, Shared Outcomes.
I mistakenly focused only on activities and not on outcomes when I was teaching.
Outcomes anchor and guide the choices of instructional activities, materials, practice assignments, and assessment tasks. Teachers and students need to share and internalize it. When students understand outcomes, they can use them to set goals, guide learning, and prompt self-reflection.
The two key traits of outcomes to remember are:
Learning outcomes are clear – both long-term (e.g. graduation standards and performance indicators) and short-term (e.g. learning targets)
Clear descriptions of what success-criteria looks like are established and shared
If you are struggling with success criteria, check out my blog post: 3 Effective Ways to Help Students Achieve Criteria for Success or read The Success-Criteria Playbook by Doug Fisher.
Varied Content, Materials, & Methods of Instruction is another element of effective instruction.
From the Developing Student Ownership book, Rober Crowe and Jane Kennedy (2017) state in Strategic Learning Practice Curriculum 2:
"Each and every student is supported by units and lessons that provide an Integrated Approach and that support conceptual redundancy of the Learning Outcomes." (pg. 26) Students must own their learning, but they must answer the following questions:
How does learning in various ways – listening, speaking, reading, and writing – support mastery of the skill?
How does the current learning relate to previous and subsequent learning?
How can I use this learning in the future?
All this is related to varied content, material, and methods of instruction. This element of instruction is about teachers selecting content and materials to engage and meet the needs of all learners. Students explore ideas and information in various ways, and access learning through multiple entry points.
You can access learning through listening, speaking, reading and writing to support mastery of the skill. I know that materials sometimes provided by the district can be limited, and teachers have to buy materials themselves. But when you think about if students are not supported by units and lessons that provide an Integrated Approach, what would happen? Students are not able to achieve outcomes.
Here are the Key Traits provided by Great Schools Partnership for this element:
Content
Instructional materials and activities reflect the identities of learners in the community and the diversity of our world.
Content is selected and explored in ways that foster and reflect an understanding of multiple perspectives and critical issues.
Teachers select materials for instructional activities to meet the needs of a variety of learners.
Students have choice in materials and topics in order to meet learning outcomes.
Process
Students make meaningful choices about their learning, and are taught how to make those choices well.
Students learn new information in different ways–inquiry, investigation, presentation, etc.
Student groupings are flexible, varied, and intentionally matched to the activity and learner.
Students use a range of methods (differentiated homework, reading, activities) and supports (including technology) to advance their learning.
Time and structures support reteaching and extension of learning, as needed.
Resources and materials improve accessibility for a variety of learners.
Assessment
Students have choices about how they demonstrate their learning.
Students use multiple and varied pathways to reach common ends.
Students use varied tools and supports (including technology) to demonstrate learning.
Assessments are relevant, authentic, and purposeful.
Do you see what it takes to create units and lessons? So far, these elements are intertwined, but there are two more elements to consider:
Complex Thinking & Transfer:
This element has to do with Rigor. My blog post: What You Need to Know Two Components in Path to Rigor I use Marzano's definition: complexity is the cognitive load required by the standard. Marzano's taxonomy has 4 levels: Retrieval, comprehension, analysis, and knowledge utilization.
All this has to do according to the Great Schools Partnership are:
Every student is capable of complex thought and transfer of learning.
Higher order thinking promotes student engagement.
Learning that promotes transfer of knowledge and skills prepares students for the future.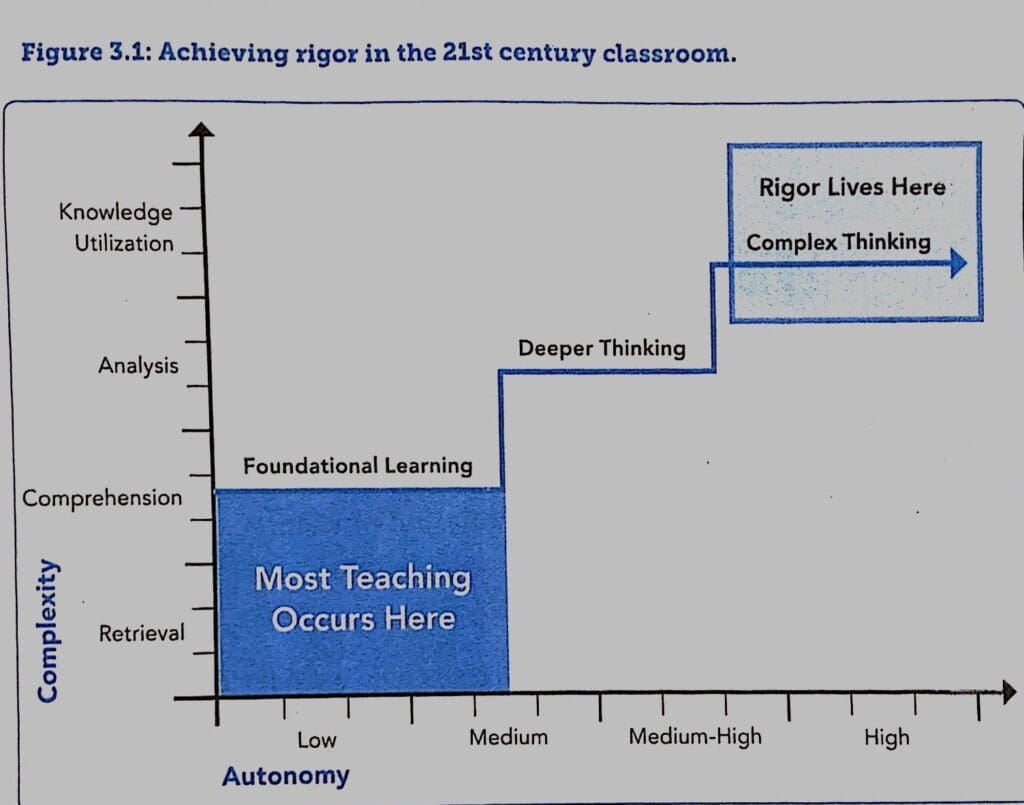 You can see from the chart above that most student learning occurs at the comprehension and retrieval level. This is at the low end of the spectrum. I mentioned in the post that rigor is important to planning, because taxonomy is the tool teachers must use to scaffold learning, from introducing new content at the foundational level to helping students deepen that content. The end goal is for students to reach higher levels of cognitive complexity with autonomy.
The 5th and last element of effective instruction is Practice & Feedback.
Key traits of practice and feedback are:
Practice
Routines, strategies, and instruction support student learning of essential skills and knowledge by providing opportunities for practice.
Opportunities for practice allow students to work independently, cooperatively, and with teacher guidance.
Students practice applying complex skills over time within and across disciplines.
Feedback
Teachers give students feedback that is timely, specific, and actionable.
Students are taught how to give, interpret, and use feedback in their learning.
Students have opportunities to give, receive, and use feedback to revise essential pieces of work.
We know these key traits are the essential elements of the feedback loop. Without it, you would not close the gap between what students know and what they are able to do.
Conclusion
With this blog post, I try to pull in my blog posts on Standards-Based Learning and Student Ownership of Learning to give you a big picture of how effective instruction works. It took over a year to put information on the Teacher Clarity Website, to where I think it makes sense. It is a process you have to reflect on and put into practice.
Reference
Great School Partnership. The Elements of Effective Instruction. Retrieved from:
https://www.greatschoolspartnership.org/resources/elements-of-effective-instruction/
Gracie, L. Jan 20, 2020 STUDENT ENGAGEMENT VS. EMPOWERMENT
Retrieved from
https://blog.tcea.org/student-engagement-vs-empowerment/#:~:text=Couros%20goes%20on%20to%20further,%2C%20interests%2C%20and%20future.%E2%80%9D