Empower Student Ownership of Learning in the Classroom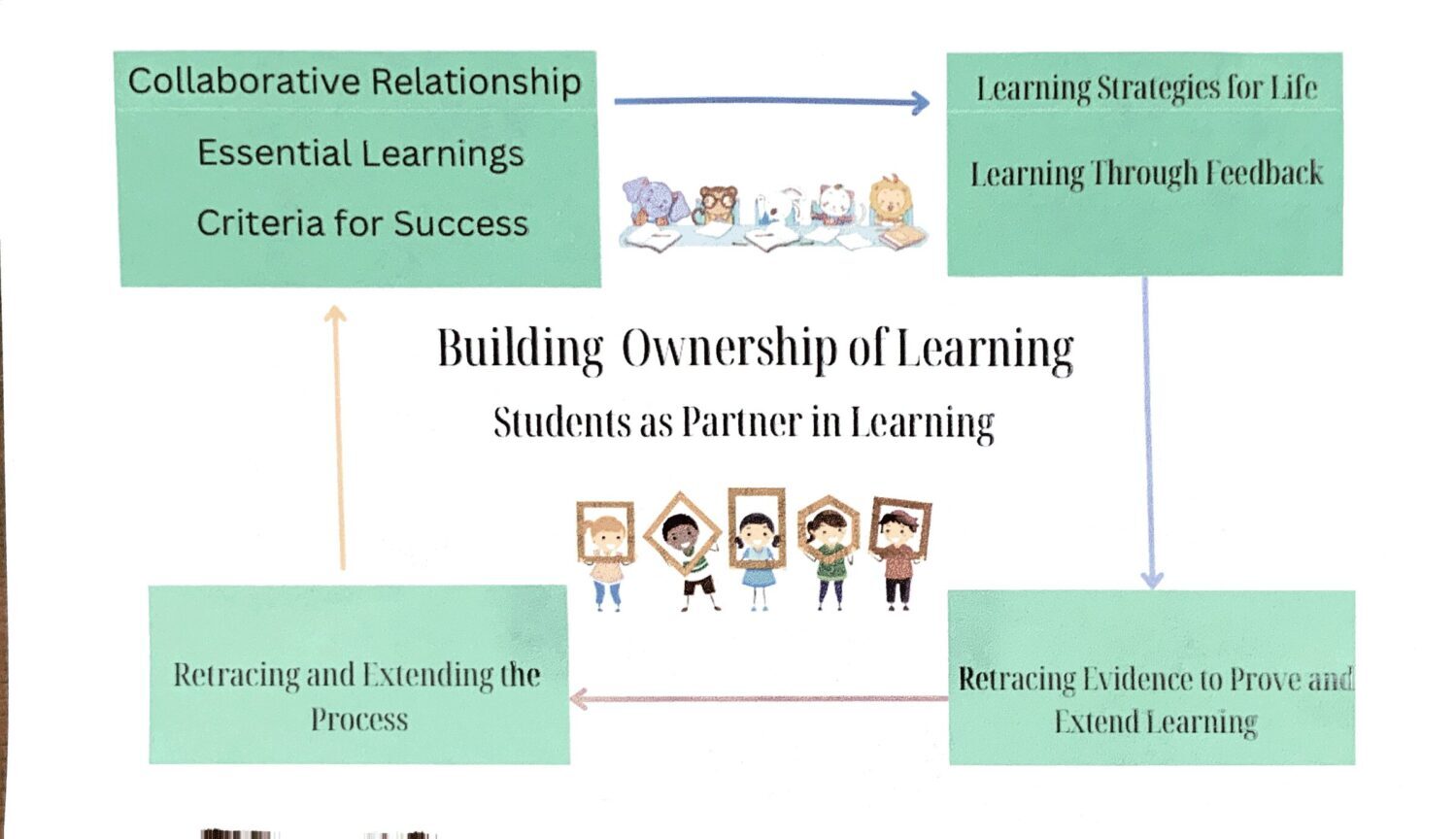 Facilitate Student Ownership of Learning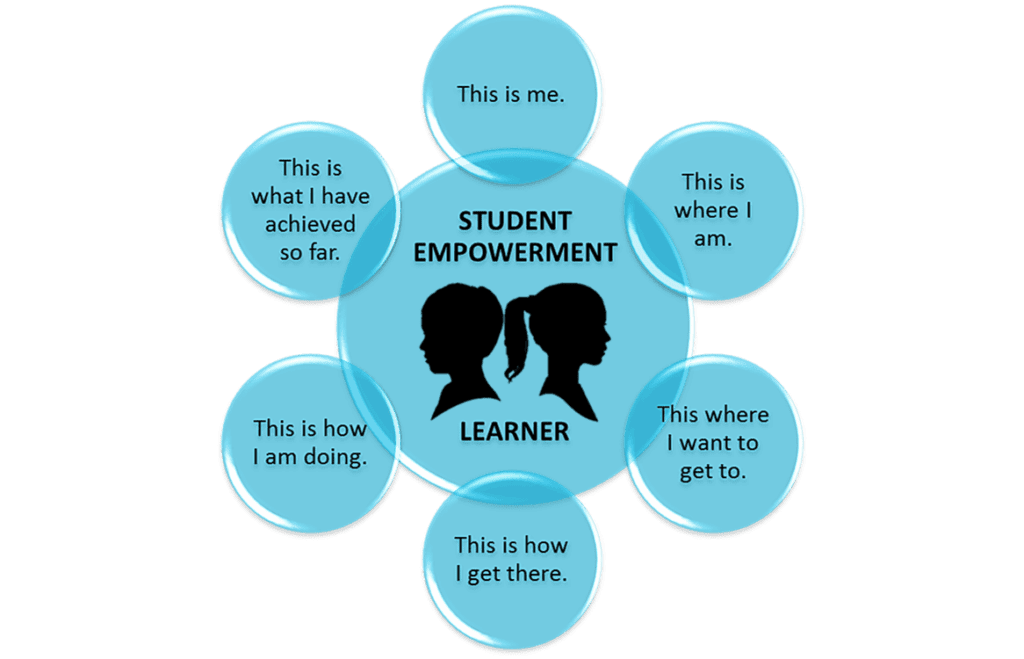 Learner needs to understand how they learn to have ownership of their learning. As an educator, how do you achieve this? Student-Centered Learning prioritizes ownership of learning and agency. Erin Ellis, the author of Classroom-Ready Resources for Student Centered Learning, states educators must regularly allow students to self-assess their progress, identify strengths, and areas for improvement. This requires students to develop metacognition skills by observing models and reflecting on their learning.
In classrooms that prioritize student-centered learning, teachers demonstrate to students how to approach their education and identify the necessary actions for achieving their objectives. Students are encouraged to collaborate to establish their goals and criteria for attaining them.
Ellis emphasizes that goal setting should involve collaboration between students, teachers, and peers. In addition to selecting learning targets, students should also have choices, such as how they demonstrate their learning, which topics they focus on, and the model of learning.
Ellis highlights that offering opportunities for choice is crucial in developing student agency, a key element in enabling students to take ownership of thier learning
Evidence of Student Ownership of Learning
Student ownership is evident when students can articulate what they are learning, why they are learning, strategies that support their learning, and how they will use these strategies in the future.
Goal of Ownership of Learning
Students can regain control over their own learning by giving them agency and choice. They possess the knowledge (i.e., learning) needed to be empowered and confident in controlling their own lives and engaging with their choices. Owning their learning means making their own choices, asking questions, and making decisions. They create a roadmap for learning with support, helping them creating their own map.
Empower Student Learning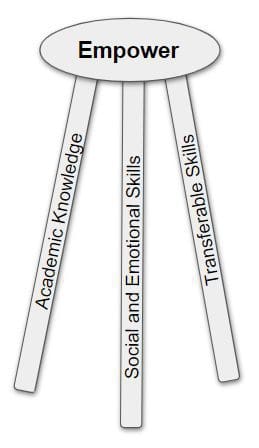 The article "Empower Students Through Creativity and Choice", highlights three key areas for student success: academic knowledge, social and emotional skills, and transferable skills. These three areas act as the legs of a stool, supporting and empowering students. Without all three, the stool will not stand. But with a strong foundation in each area, students will have a stable base for success in college, career, and personal life.
Academic achievement is crucial for building a solid base, and is the primary goal of K-12 schools. However, educators often acknowledge that it may not be sufficient on its own.
Employers prioritize transferable skills like communication, collaboration, creativity, and critical thinking in potential employees. As jobs continuously change, employers seek individuals with strong foundational skills that can adapt to any job evolution. To ensure future success, it's essential to incorporate these core transferable skills into all subject areas.
Social emotional skills are crucial for student success in today's world. These skills help students work through struggles, manage their emotions, stay focus, and understand how their behavior impacts others. Without skills like grit, self-regulation, empathy, citizenship, and self-motivation, students might not apply their academic and transferable skills. To ensure success, it is important to integrate social and emotional skills building into all learning.
Empowerment: Why is it Important?
To build a strong foundation for students' success, I needed to understand empowerment. What does it mean? Why is it important? The article provided answers.
John Spencer, author, professor, and former middle school teacher, defines empowerment as students taking responsibility for their learning. What does this look like in the classroom?
I described this in my blog post: What is the Look and Sound of Student Ownership?
Authors, Jane Kennedy and Robert Crowe, of Developing Student Ownership (2018) ask us to imagine walking into a third grade classroom and asking a student, "What are you learning today?" Now imaging hearing this:
"Today I am learning how to describe characters by their traits, motivations, and feelings. We are reading Charlotte's Web, and I am describing Wilbur in chapter 3. I will know that I have done a good job taking notes on this by filling out my character map accurately. I am learning how to do this because, when we finish this book, I am writing an opinion essay on which character was most admirable: Charlotte, Wilbur, or Fern. I will take notes on all of the characters to use as details in my essay. I am checking with my friends in my group, because they will help me figure out if I have left any important information out of my notes. I will help them, because that's how we help everybody in the class get smarter. —" (pg 1)
Spencer describes students who are empowered as having "a meaningful voice in the process and must make critical choices along the way." Student-Centered Learning prioritizes ownership of learning and agency.
What is agency?
Bill Zima, author of MindSets and SkillSets for Learning, helps me understand that student agency is a mindset and skill-set each student needs. Zima describes A Teacher's Perspective on Student Agency:
TEACHER PERSPECTIVE
Zima, B. (2021). Mindsets and Skill Sets for Learning. Marzano Resources. https://pageburstls.elsevier.com/books/9781943360369
"What I liked best was the sense of community the students showed and the sense of empowerment they experienced. I did not become super focused on their academic performance; if it was low, I did not freak out. In the past, I could see they were struggling with mathematics. I would bang my head against the wall and wonder, Why aren't they getting it? But then, as I shifted my focus on what was important—their sense of agency—I knew that if they were academically low scoring, but were engaged in how to learn and knew how to teach themselves, they were going to be OK as adults. That was a good touchstone to keep returning to, to help me remember why I was putting in the work to develop the whole person. I knew they were working hard and it might take them longer but they would get it. We are trying to create people who can function in the modern economy that will require them to work with other people, know how to learn, and learn on their own. If they can do those things, they will be successful." (p. 12)
—Mr. Wironen, middle school mathematics and science
July 11, 2020
Spencer emphasizes that students are fully invested, intrinsically motivated, and control their own outcome when they are empowered. It is important to empower students throughout the learning process. So, how can schools shift student experiences from compliance to engagement to empowerment?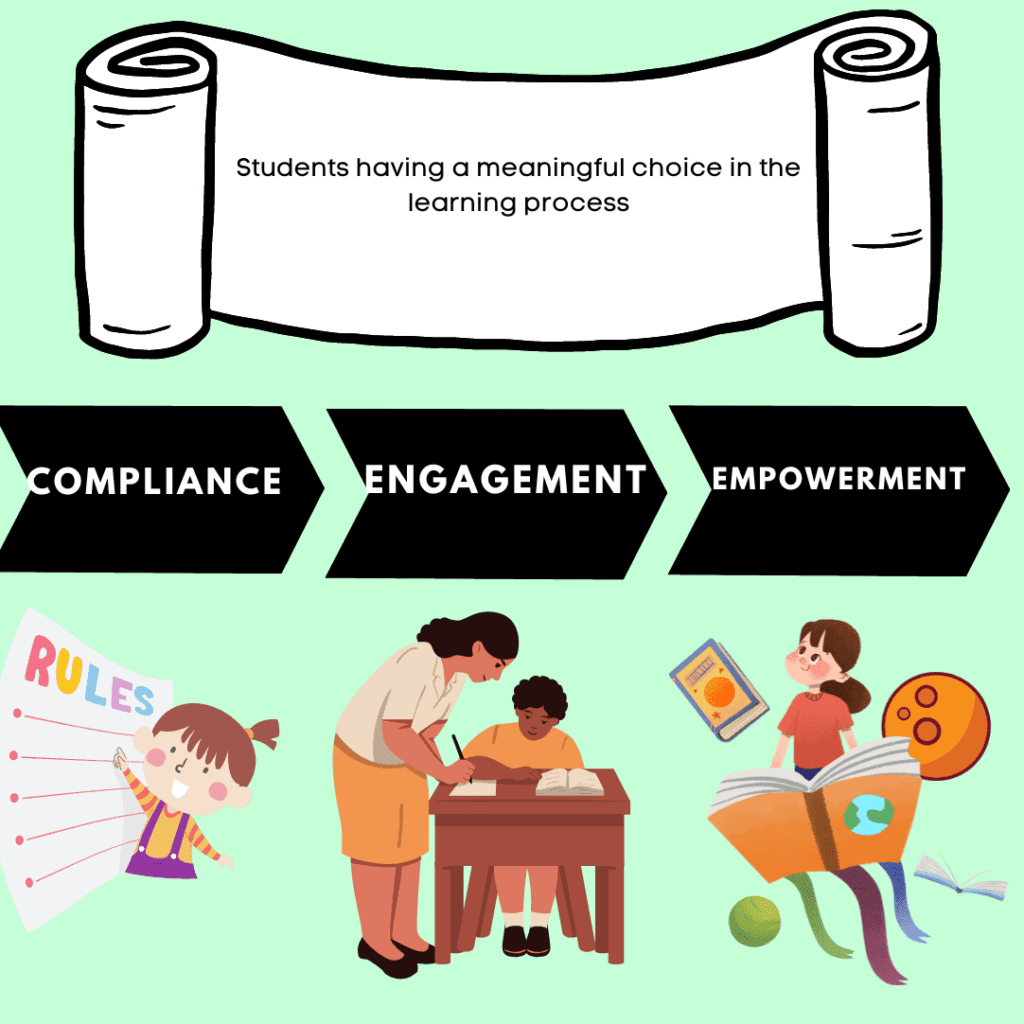 Compliance, defined by Spencer, is that students do what they are told. This implies that students don't really need to invest much in the learning process. They just listen to directions and follow a script. As long as students keep quiet and play along nicely, they often get by as passive participants in the classroom.
When students are engaged, Spencer says, they begin to take ownership of their learning. Students are now active participants in the learning process. However, engagement is not enough, because even though students can be actively engaged, they are not thinking for themselves or making deeper decisions. Spencer notes that students need to be empowered to be truly college, career, and life ready.
Transferable Skills
The Partnership for 21st Century Skills (the Partnership) is a collaboration between educators, business and community leaders, and policymakers to define the skills needed for the next generation of workers and foster the development of those skills in students.
According to the Partnership's Web site (www.21st century skills.org), "There is a profound gap between the knowledge and skills most students learn in school and the knowledge and skills they need in typical 21st century communities and workplaces. To successfully face rigorous higher education coursework, career challenges, and a globally competitive workforce, U.S. schools must align classroom environments with real-world environments by infusing 21st century skills."
The 4 C's of the 21st Century skills are:
Critical Thinking
Creativity
Collaboration
Communication
These are some of the most important skills employers are looking for.
Why do the 4 C's skills matter?
According to www.aeseducation.com "What Are the Four C's of 21st Century Skills?" explained what are each of the 4 C's skills and why it matters:
Critical thinking skills that empower students to think for themselves, question what they hear, and discover truth for themselves. Students may start with a simple question of asking why? As students become critical thinkers, they will set themselves up for a lifetime of thinking and learning independently. Students who are critical thinkers can hone their decision-making skills, which many employers look for in new hires.
Creativity is to think outside the box. It can be used in any career across every industry. Creativity means your students can think in ways others may not, making them excellent problem solvers. The ability to think outside the box to find solutions will give students a strong advantage as they start their careers.
Collaboration is about working with others. It often takes the form of group work in the classroom. This is an important skill to learn and practice. It will give your students experience in working with others they may not normally connect with. Learning teamwork skills will set students up for success in their workspace.
Communication requires conveying ideas. Effective communication requires students to convey ideas quickly and concisely for others to understand. This involves multiple facets of communication, including listening, verbal, written, and even social media. Good communication skills are necessary in any workplace and are expected by nearly every employer when considering new hires.
Empower Students Through Creativity and Choice article emphasized the importance of transferable skills by stating the following:
"Because of their importance to future success, these core transferable skills should be woven into lessons in every subject area."
How do you integrate transferable skills into lessons in every subject area?
By providing student choice and facilitating opportunities to create, are two of the most powerful pathways to success. The two important points explained in the article in facilitating opportunities to create are:
"When students are allowed to collaborate during the creation process, they further benefit and develop additional skills. By creating with others, students authentically apply all four Cs: communication, collaboration, creativity, and critical thinking. Students need opportunities to practice and develop these skills, and group creation projects are an ideal way to provide this valuable space."
"Social and emotional skill building can also happen during creative problem-solving. When students create and work to solve problems, they will undoubtedly encounter challenges and struggles. Under the guiding support of their teacher, students can work through these challenges and develop grit and a growth mindset. They can also be coached to face problems with empathy and consider how their choices impact others. Through these experiences, students will discover their passions, as well as how they learn best." These insights, along with meta-cognitive thinking skills, can be powerful as our students face the future.
The article also points out that "Providing opportunities for voice and choice allows students to see themselves as important to the learning process, and it transforms learning from something that is "done to students" to something that is "done with students." This is a monumental shift that gives students ownership of the learning experience and empowers them to take control of the process."
The article suggested pathways to get you started:
Show What You Know: a common entry point into student choice and creation. Students find creative ways to "teach back" what they have learned. Ideally, they will apply it at a higher level, but even a simple reteaching of a concept can help cement the learning, while also giving room for higher-level cognitive tasks of creation and choice. Often, teachers will allow students to decide whether they teach or how they will communicate it (or both).
Branching Out: In an inquiry project, students typically start with a question and then work to find an answer. This might be a problem/solution activity, and the solution may come in the form of some sort of creation. Project Based Learning is another way for students to generally identify a problem or task, and then work to solve or achieve it.
Conclusion
As I learn more about student ownership of learning, the more I can connect the dots. Teacher Clarity is still a work in progress. I will try my best to provide you with practical information in my blogs.
I invite you to explore my website and pick ideas that resonate with you.