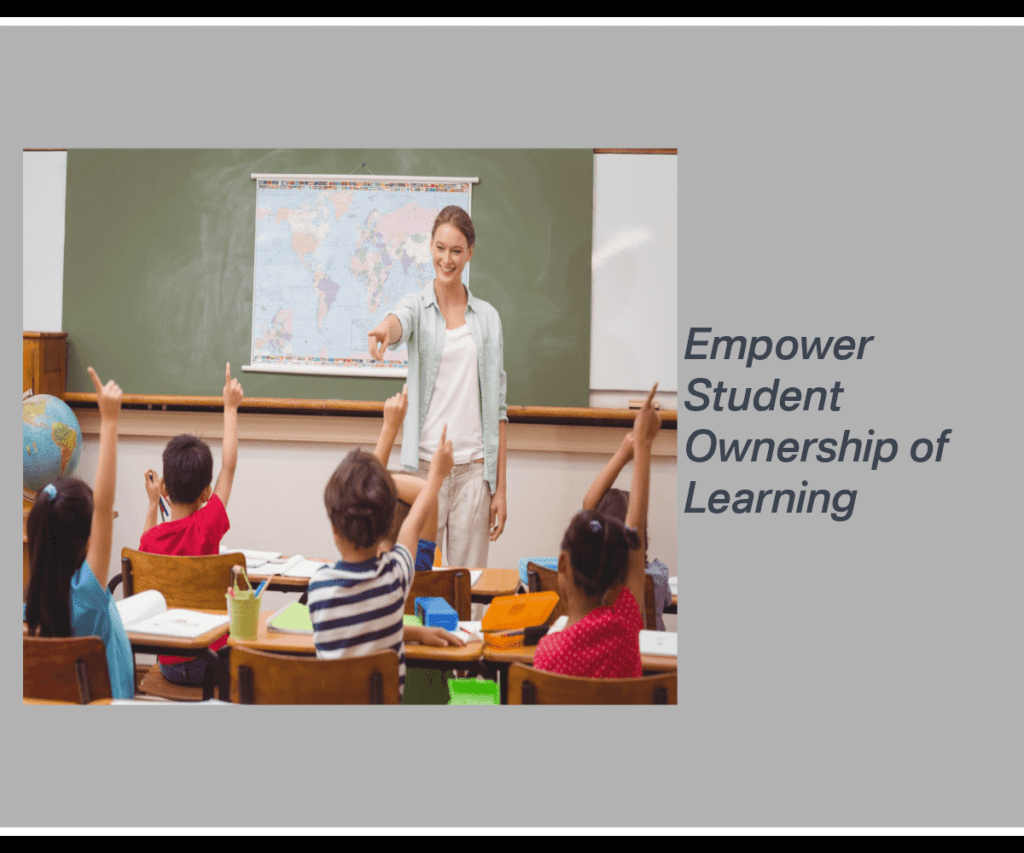 Facilitate Student Ownership of Learning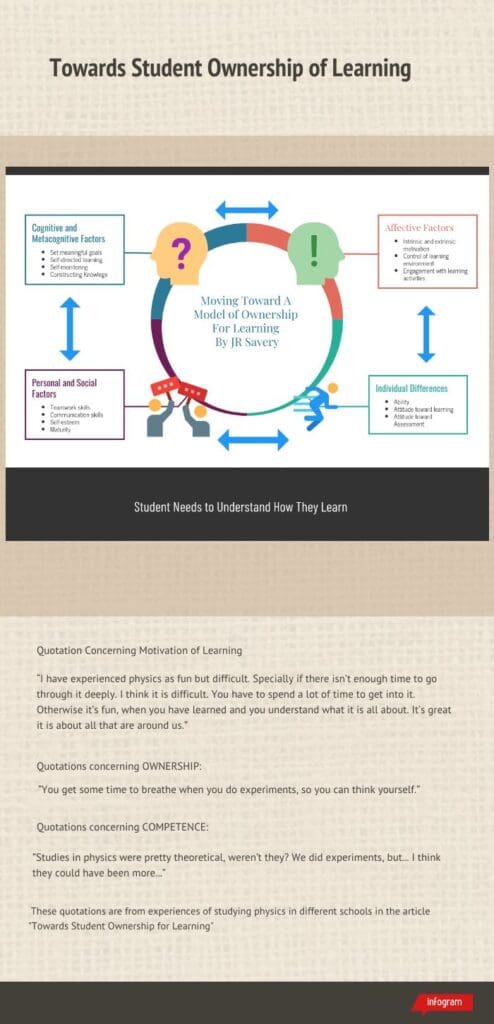 Learner needs to understand how they learn to have ownership of their learning. As an educator, how do you achieve this? Student-Centered Learning prioritizes ownership of learning and agency. Erin Ellis, the author of Classroom-Ready Resources for Student Centered Learning, states educators must regularly allow students to self-assess their progress, identify strengths, and areas for improvement. This requires students to develop metacognition skills by observing models and reflecting on their learning.
In classrooms that prioritize student-centered learning, teachers demonstrate to students how to approach their education and identify the necessary actions for achieving their objectives. Students are encouraged to collaborate to establish their goals and criteria for attaining them.
Ellis emphasizes that goal setting should involve collaboration between students, teachers, and peers. In addition to selecting learning targets, students should also have choices, such as how they demonstrate their learning, which topics they focus on, and the model of learning.
Ellis highlights that offering opportunities for choice is crucial in developing student agency, a key element in enabling students to take ownership of thier learning
Evidence of Student Ownership of Learning
Student ownership is evident when students can articulate what they are learning, why they are learning, strategies that support their learning, and how they will use these strategies in the future.
Goal of Ownership of Learning
Students can regain control over their own learning by giving them agency and choice. They possess the knowledge (i.e., learning) needed to be empowered and confident in controlling their own lives and engaging with their choices. Owning their learning means making their own choices, asking questions, and making decisions. They create a roadmap for learning with support, helping them creating their own map.
Empower Student Learning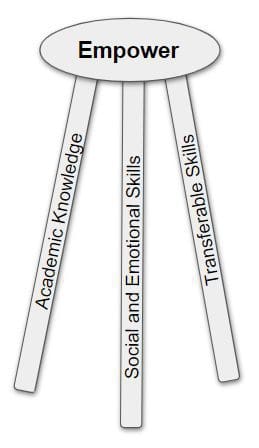 The article "Empower Students Through Creativity and Choice", highlights three key areas for student success: academic knowledge, social and emotional skills, and transferable skills. These three areas act as the legs of a stool, supporting and empowering students. Without all three, the stool will not stand. But with a strong foundation in each area, students will have a stable base for success in college, career, and personal life.
Academic achievement is crucial for building a solid base, and is the primary goal of K-12 schools. However, educators often acknowledge that it may not be sufficient on its own.
Employers prioritize transferable skills like communication, collaboration, creativity, and critical thinking in potential employees. As jobs continuously change, employers seek individuals with strong foundational skills that can adapt to any job evolution. To ensure future success, it's essential to incorporate these core transferable skills into all subject area.
Social emotional skills are crucial for student success in today's world. These skills help students work through struggles, manage their emotions, stay focus, and understand how their behavior impacts others. Without skills like grit, self-regulation, empathy, citizenship, and self-motivation, students might not apply their academic and transferable skills. To ensure success, it is important to integrate social and emotional skills building into all learning.
Project-based learning is a teaching method that allows students to have a say in their learning process and encourages them to create. This approach can help students in their education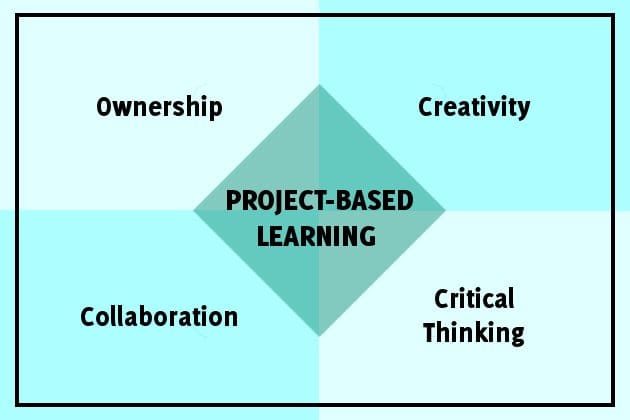 Michael McDowell, author of Rigorous PBL by Design, believes PBL can serve as a vehicle to build confidence and competence in learning. McDowell focuses on confidence and competence in learning by discussing the following in his book:
Attributes of confidence in learning including having a growth mindset, becoming assessment-capable learners, and collaborating with peers.

Growth Mindset: Learners understand what makes a strong learner and believe they and others can improve.

Assessment-Capable Learners: Learners understand how they learn and how to increase learning and use information to improve.

To make a connection: assessment-capable learners track their performance by ensuring they can answer these questions:

Where am I going in my learning?

What am now in my learning?

What is the next thing I need to improve in my learning?

How do I improve my learning and that of others?

These questions connect back to the standards and curriculum in Strategic Learning Practices from Developing Student Ownership of Learning book. Understanding how standards work is important to teaching and learning.

Learning with others (Collaborating): use the power of peer-to-peer interactions to enhance their learning and that of others.

Competence in learning levels: Surface, Deep, and Transfer
Surface-Level Knowledge: Learners' ability to understand single or multiple ideas, but they are limited by the relationship of ideas and to a larger principle or skill set.
Deep-Level Knowledge: A learner's ability to relate multiple ideas. It also describes the ability to understand similarities and differences between concepts and skills. Students understand how specific ideas are related to underlying principles of discipline.
Transfer-Level Knowledge: A learner's ability to apply basic and complex understanding and skills to challenging problems within and between contexts. With transfer knowledge, learners can link ideas in few ways and can predict, evaluate, and generalize across contexts.
Project-Based Learning Components
PROJECT BASED LEARNING UNITS INCLUDE THE FOLLOWING CORE COMPONENTS: From Magnifying Learning Site: https://www.magnifylearningin.org/project-based-learning-core-components
Standards: Content Knowledge & Skills: The PBL Unit demonstrates a range of content knowledge clearly focused on conceptual development and integrated through workshops/lessons.
Authenticity & Relevance: Addresses a real-world challenge, need, problem, or concern: The PBL Unit is authentic and relevant for students and must address community-driven issues. Adults in the "real world" are likely to tackle the problem or question addressed in the PBL Unit.
Inquiry: The PBL Unit contains major phases of the challenge, and helps students organize their to-do lists without overly prescribing tasks.
Student Voice & Choice: The PBL Unit offers students multiple opportunities to provide creative solutions to the challenge, and allows students to contribute individually to the group according to their respective talents and skills.
Collaboration: The PBL Unit design intentionally supports group interactions through various strategies and allows students to engage in cooperative learning activities that promote productive interdependence, individual accountability, and positive interaction among the students.
Employability (21st Century) Skills:The PBL Unit incorporates employability skills, i.e. critical thinking, communication, collaboration, technology use, innovation, self-direction, persistence, which are assessed both formatively and summatively throughout the PBL
Community Partners: The PBL Unit involves community partners who have played an integral role throughout the PBL, providing feedback and/or contributing to the final evaluation.
Feedback & Revision: Students receive frequent and timely feedback on their works-in-progress from teachers, mentors, and peers, and are given time to use the feedback to revise and improve their end products.
Publicly Presented Product: The final end product is a culminating exhibition, presentation, or activity in front of an informed audience, which addresses an authentic challenge posed by the community partner.
Reflection:Throughout the course of the PBL Unit and afterwards, there are deliberate times of reflection regarding learning and progress.
The PBL Core Components make up the most important and crucial pieces of every PBL Unit. For PBL fidelity, it is important to embed each of these components into the PBL design process.
Conclusion
As I learn more about student ownership of learning, the more I can connect the dots. Teacher Clarity is still a work in progress. I will try my best to provide you with practical information in my blogs.
I invite you to explore my website and pick ideas that resonate with you.