Introduction
Moss and Brookhart, authors of Learning Target, give 2 classroom scenarios on sharing learning target:
Mrs. Thompson:
Today we will continue reading Julius Caesar, pages 462 to 472. Answer the questions in the study guide as you read. The first 30 questions focus on facts about Shakespeare's prior life, and the next 30 outline facts about Julius Caesar. To answer questions 60 through 75, you must define the archaic terms from the play. Use your dictionaries for this. Remember, questions on tomorrow's quiz will come directly from the study guide.
Mr. Labriola:
Today we are learning to evaluate the claims used to convince Marcus Brutus that Julius Caesar was an enemy of the state who deserved to die. As you read today's passage with members of your learning group, identify all the claims made by the various conspirators. Then reread the passage to collect evidence to verify each claim. Remember, to warrant Caesar's death, the claims must be serious and not trivial, and they must be supported by evidence that is reliable and substantiated. Look for evidence that is more than opinion or hearsay. Ask yourself whether the evidence is verifiable—is there a witness or some form of documentation to back up the claim? At the end of the lesson, each group will share three of the claims it investigated, evaluate the quality of the evidence it uncovered, and explain its reason for deciding whether or not each claim warranted Cesar's death. Each of you has the rubric we will use to weigh the quality of the evidence we find in the play. Note that there are two important elements for evaluating the claims you find: the seriousness of the claim and the reliability of the evidence. Use the rubric as you read, work in your groups, and prepare to share your conclusions. Let's examine the rubric elements now and use them to assess some samples of claims and evidence so we can be sure we understand exactly what the levels of quality on the rubric mean and how they apply.
Do you think students will understand the learning target in Mrs. Thompson's class or Mr. Labriola's class about Julius Caesar?
If you say Mr. Labriola'class, you are correct. But why? Let's look at what success criteria is and the 3 ways to use it effectively to help students achieve success in the classroom.
Define Success Criteria–Big Three
The authors emphasize success criteria must be specific to the learning target, understandable, and visible. It is important to note success criteria answers an important question about the lesson from the student's point of view: 'How will I know when I hit my learning target?'
An analogy from the authors is to imagine success criteria as an actual target. The bull's-eye, dead center, depicts mastery-what students will aim for and what success looks like when students hit their learning target. The target's outer rings represent the typical level of understanding we expect to establish as students move closer toward mastery-
proficient, basic, or minimal.
A. Mastery of the learning target (bull's eye)

Thorough understanding, expert proficiency, highly effective.

B. Proficiency (1st outer ring white circle)

Substantial understanding, basic proficiency, effective.

C. Basic (2nd outer ring black circle)

General understanding, basic proficiency, generally effective.

D. Minimal (3rd outer ring white circle)

Misunderstanding, serious misconception. Novice proficiency, minimally effective.

E. No Understanding (4th outer ring black circle)

No Proficiency, ineffective.
We know what success criteria means from authors' analogy, but many educators assume they are sharing success criteria when they tell their students how many questions they should get right on an assignment, or encourage them to shoot for certain scores or simply "do their best." Success criteria are not ways to certify student understanding in terms of scores, grades, percentage or any other number labels.
Remember Ms. Thompson's lesson on Julius Caesar, it does not answer the important question from students' point of view "How Will I know when I hit my learning target?" Instead, students are looking at the questions and wondering:
What content is important for me to learn?
Am I supposed to understand the life of William Shakespeare?
How can I do my best on the study guide?
I wonder what facts about Julius Caesar are the most important for me to learn?
Will I be asked to define the archaic words to show that I know what an archaic word means?
How will I have to do that, and can I use my study guide as a reference?
I was guilty of this mistake when I started teaching and I feel for teachers who repeat this mistake.
Please remember the Big Three of Success Criteria!
The Big Three of Success Criteria must include:
We craft the learning target by considering what growing understanding and competence will look like for students as they progress from little understanding toward a more sophisticated grasp of the content
Performance of understanding-consider learning intention-specific content plus the potential learning trajectory for the lesson- and the learning target
Success criteria organize and frame from the students' point of view, such as 'I-Can' statements
Sharing the Learning Target and Success Criteria Verbally
According to Moss and Brookhart, sharing learning target means students are engaged in a performance of understanding using look forms to assess the quality of their learning, and receive timely suggestions and strategies that feed their learning forward while they are learning.
Remember:
Sharing Learning Targets = Means
Self-regulated assessment capable learners = Desired End
The best way to share learning target and success criteria for today's lesson is through a convincing performance of understanding, a learning experience, and resulting student performance that embody the learning target and provide compelling evidence of student learning.
Performance of Understanding:
Performance of understanding means to develop both understanding of the concept and produces evidence that helps students and teachers gauge where that level of understanding resides relation to the learning target and success criteria, Moss and Brookhart noted in the Learning Target book.
When you think of performance of understanding, think of it as a carefully designed learning experience that happens during the formative learning cycle in today's lesson.
Purpose of Performance of Understanding:
Embody the learning target
Promote mastery of essential content
Develop students proficiency in specific reasoning skills
Provide compelling evidence of student learning, and
Prepare students for the elevated degree of challenge that will face them in tomorrow's lesson
Tailoring Criteria for Success to Performance of Understanding
If the performance of understanding involves ….
Examples
Then useful criteria for success might be ….
Grouping a new concept of term.
*Science: weather front, DNA, ecosystem
*Social Studies: state capitals, government, imperialism, urbanization
*Language Arts: Parts of speech, nonfiction, root word.
*Mathematics: integer, volume, estimation, prediction.
Organized as "I can" statements:
*I can explain [concept or term] in my own words.
*I can give examples of what [concept or term] is and examples of what [concept or term] is not.
*I can use [concept or term] to analyze a situation [or text, or data] or to solve a problem.
Demonstrating a discrete skill-a belief, well defined action that has a clear beginning and end.
*Graphing a quadratic equation.
*Forming a contraction.
*Changing a sentence from passive to active voice.
*Measuring the circumference of a circle.
Organized as an "I can" statements checklist of important elements, steps, or rules of the skill:
I can change a passive sentence into an active sentence by
*Turning the object of the passive into the "star" or the subject of the active sentence.
*Removing the "to be" form, "en" or "ed" from the passive verb to make it an active verb.
*Turning the subject of the passive sentence into a direct object of the active sentence,
Creating a complex product or demonstrating a complex process.
*Writing a descriptive paragraph.
*Participating in a debate.
*Creating a power point.
*Outlining a book chapter.
*Give an informative speech.
Organized as a rubric:
I can [write a piece of fan fiction, plant a terrarium] according to the descriptions in the rubric.
Embodied in examples of good work:
I can [write a descriptive paragraph, create a power-point presentation] that is as good as this one because —
Demonstrated through expert modeling of the process:
I can [give an informative speech, call 911] just as well as [model of process] did because —
Using critical, creative, or self regulartory reasoning processes and thinking skills to maximize the quality of a performance or product.
*Classifying the eight planets in an original way.
*Describing the similarities and differences between prose and poetry.
*Writing an essay that argues for wind power over fossil fuels.
Organized as guiding questions for the reasoning process:
I can use my best thinking to classify the planets by asking myself these questions:
*Can I identify the things I am going to classify?
*Can I name something important that these things in this group have in common?
Is there anything that does not belong in this group? Can I make another category for some of the things that do not belong?
Examples of Performance of Understanding
Strategies that help students achieve criteria for success
The Four-Step Framework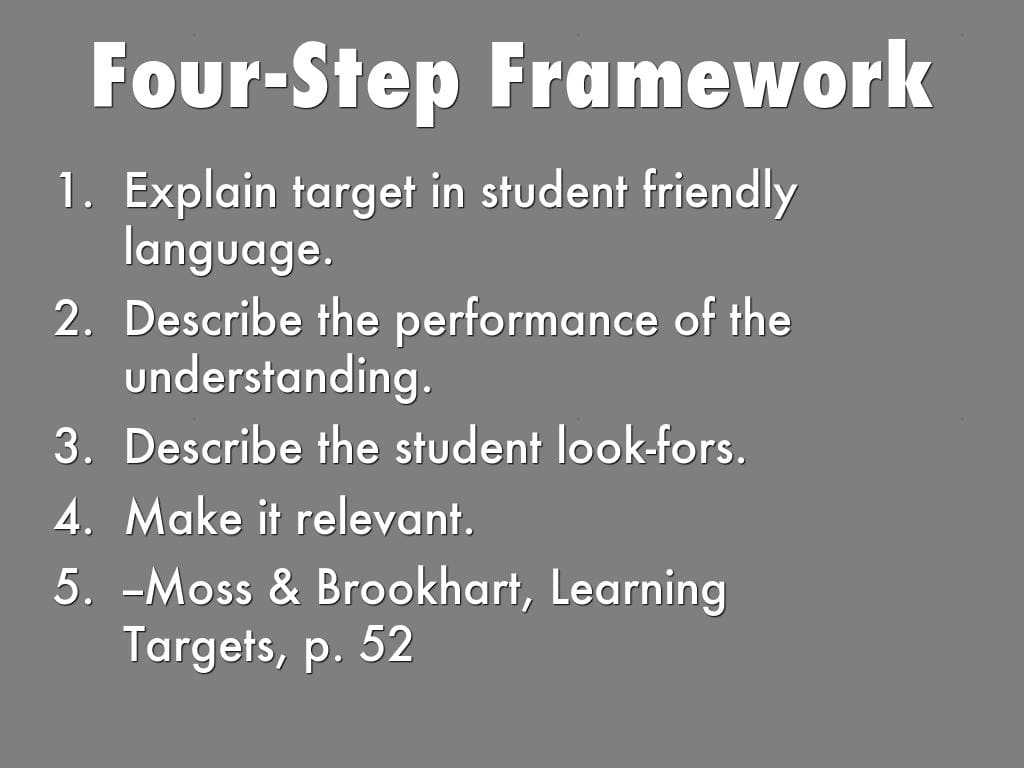 Four-Step Framework employs a set of "starter prompts" that unpack the learning target, performance of understanding, and success criteria. It has successive steps of the framework outline what students will learn during today's lesson, explain what they will do to learn it, describe what they will look for to know they are doing fine work, and obtain the target relevant by connecting it to the potential learning trajectory or real-world applications.
The Four Step Framework
The Learning target for today's lesson: ________________________________________________________________________
| | |
| --- | --- |
| Step 1: Explain the learning target in student friendly terms. | We are learning to… |
| Step 2: Describe the performance of understanding. | We show we can do this by… |
| Step 3: Describe the Student look for. | To know how well we are learning this, we will look for… |
| Step 4: Make it relevant. | It is important for us to learn this because… |
The Four Step Framework template
Four Step Framework Example:
3rd Grade Language Arts Lesson
Learning Target: "Students will learn how to sequence the four major events of a story."
Step 1. Explain the learning target in student-friendly terms: We are learning to put the four most important events of a story we read into the exact order they happened in the story to answer the question "What happened first, second, third, and last."
Step 2. Describe the performance of understanding: We will show that we can do this by placing pictures of the four important events from the story in the exact order we remember them happening.
Step 3. Describe the student look for: To know how well we are learning this, we will look for the match between the order of our pictures and the sequence of events to the story as we reread it.
Step 4. Make it Relevant: It is important for us to put what happens in a story in the correct order because it helps us understand and remember stories and books we read. It will help us in our next lesson when we learn how to write our own stories. Knowing and remembering the order of important events also helps us learn science, history, math, and other subjects in school. It is a skill we will use for the rest of our lives, no matter what we do when we grow up. Doctors, detectives, teachers, mechanics, musicians, chefs, and many others must know and follow the exact order of events.
The I-Can Framework
This framework pairs a description of the learning target with an "I-Can" statement that describes the performance of understanding for today's lesson and translates the criteria for success into look-for that students can understand and use.
| | | |
| --- | --- | --- |
| Level and Topic | Describe the Learning Target | Use "I-Can" Statements to share the Performance of Understanding and Student Look-fors. |
| | | |
| | | |
I Can Framework Template
I-Can Framework Example:
Level and Topic
Elementary School: Proper Nouns
Step 1. Use the first starter prompt to describe the learning target: We are learning to find proper nouns in a story.
Step 2. Use the second starter prompt to alert students to performance of understanding as an I-Can statement: You will know you can do this when you can say: I can read a story and circle all the proper nouns I find.
Using Rubrics to Share Connected Learning Targets and Success Criteria
Using Rubrics to Share Learning Targets and Criteria for Success
Strategies
Strategy
How to use the Strategy
I Can … Now I can Self-Assessment
1. Give the rubric to students.
2. Partway through the lesson or task, ask students to mark the level of the rubric that shows their present level of performance-their "I can".
3. Ask students to list a strategy for an area where they should improve or revise their work.
4. At the end of the lesson or task, ask students to mark the rubric with a different color to show how their strategies helped improve their work-"Now I Can."
Teacher-Student Assess and Compare
1. Give the rubric to students.
2. students use a yellow highlighter to mark the levels in the rubric that bext describe how they assess their performance.
3. The teacher assesses each student's performance using the student's rubric and a blue highlighter.
4. The places where "yellow and blue make green" show agreement on the student's application of the criteria for success.
5. Areas that remain blue are places where the teacher can help the student better understand the criteria.
Student-Made Rubric
1. Give students a blank table or template for a rubric.
2. As a whole class or in small groups, ask students what constitutes good work for the lesson (good writing, good eye contact, good participation, etc.,) Students will use this list as the elements of their rubric.
3. Ask students to create descriptions of strong and weak work for each element to create a simple rubric.
Ready, Steady, Pair Share
1. Give the rubric to students before a performance of understanding.
2. Students sit with a partner and take turns explaining the elements in the rubric.
3. Students begin the performance of understanding.
4. Halfway through the performance, students return to their pairs and explain how what they are doing meets the criteria for success in the rubric.
5. Students repeat step 3 at the end of the performance of understanding.
Strategic Goal Setting
1. Give the rubric to students before a performance of understanding.
2. student plan and list strategies for a successful performance, one strategy for each element in the rubric.
"Traffic Light" Student Self Assessment
1. Give students a copy of the rubric.
2. Students work in pairs to discuss their understanding of the rubric.
3. Student engage in their performance of understanding.
4. At the midpoint of the performance, students stop and "traffic light" where they are using the rubric and red, green, and yellow dots to mark where they think their work is now:
-Green-solid understanding-I am ready to go.
-Yellow- partial understanding-I need to slow down and think about this carefully.
-Red-I need help and can't do this on my own.
Examples of Using Rubric to Share Learning Target and Criteria for Success.
I have attached 2 pdfs Action Tool E is Student Self-Assessment and Intentional Learning Guide and Action Too C is Learning Target Lesson Planning Process Guide includes Criteria for Succes from this post.
Action Tool E
https://documentcloud.adobe.com/link/track?uri=urn:aaid:scds:US:7ee08cfb-228f-4b6c-945a-b455ca8cd7a3
Action Tool C
https://documentcloud.adobe.com/link/track?uri=urn:aaid:scds:US:e899421e-04ad-4f6d-888a-2c05ed58fa87