You Need to Know 8 Elements of Project Based Learning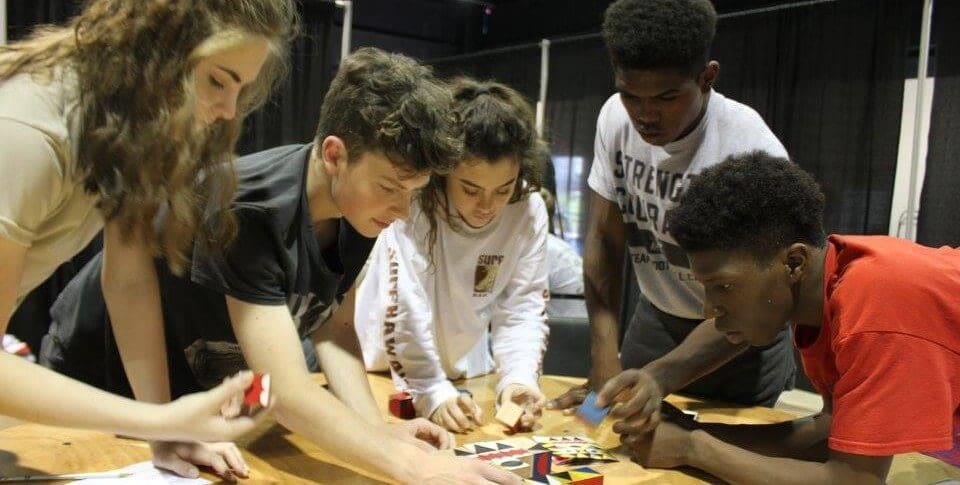 A good project must be meaningful to the students. It also has to fulfill an educational purpose. But that's not all. Overall, there are 8 elements essential for any project to be successful:
According to The Key Element of Project Based Learning article,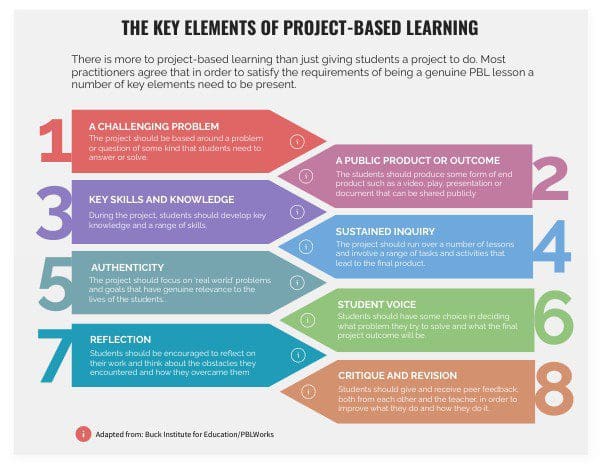 What is Project Based Learning?
According to magnify learning website, project based learning consists of the following:
But there is more to project-based learning than just giving students a project to do. Most practitioners agree that to satisfy the requirements of being a genuine PBL lesson, many key elements need to be present.
Key skills and knowledge
During the PBL lessons, students should learn more than just language. They should also learn information and content related to the topic of the project. This can be done in the form of research using the internet, library, or even through interviewing relevant people.
Students should also develop a wide range of skills, including team working and collaboration.
Sustained inquiry
PBL instruction usually happens over a prolonged period, and so is carried out during many lessons. This can cause timetabling problems. It can be best to keep 15-20 minutes of the lesson for PBL work and develop the project for many weeks.
Authenticity
This is an important aspect of PBL and is key to motivating the students. If they feel the project is not based on a relevant and authentic problem, they are much less likely to get involved and engaged with the work.
A public product or outcome
There are many possibilities for the outcome of the project work.
Here are a few suggestions:
A presentation
A video
A play
A book or ebook
An app or piece of software
A work of art (picture, sculpture or piece of music)
A useful product
Student voice
It's important that the teacher takes a step back and lets the students direct the projects. Teachers can be tempting to step in, direct and redirect, but this undermines the ultimate goals of PBL.
Reflection
Reflection and self-evaluation can be difficult for students who are more familiar with being evaluated. Many students may need help to develop reflective ability. Make it clear that their ability to be self-critical and improve themselves is one of the criteria that you will use to assess their progress.
A challenging problem
There are many types of problems you can base PBL around.
Remember that students don't have to fix the problems, they just need to create some form of document that offers a solution to the problem
Here are a few suggestions:
Creating an invention that addresses an everyday problem
Starting some kind of company that serves a particular need
Addressing an environmental problem
Create a weekly or monthly magazine or podcast
Design the perfect school
You can find more suggestions here: 10 Ready-to-Borrow Project Ideas
Critique and revision
This can be a difficult area for students to handle meaningfully. Giving constructive feedback to peers is a skill and one that needs to be developed. Both the ability to ask for and offer useful feedback is also an important part of working collaboratively in teams.
Part of your PBL cycle of instruction should include tips and useful expressions to help structure constructive feedback.
PBL Projects : Staying on Top of It
Rebecca Chambers, author of Operation Project Based Classroom, How Do I Stay on Top of All These Projects article had some ups and downs of her Changing the World projects two months in. She is excited to share what is happening in her classroom with anyone who will listen, and "then there are days that I drive home ready to burst into tears because I feel so out of control". Rebecca's experience with PBL is a good example of a teacher who struggles with PBL at the beginning and paints a picture of how she deals with it.
Chambers explains, "Managing a project-based classroom is probably my biggest challenge right now. I am by no means an expert at all. In this post, I will outline how I am trying to keep it all together."
Chambers took her cue from Don Wettrick's blueprint in Pure Genius and "embarked on our project based learning by looking for issues around the school that the students could find solutions for."
Project Development Cycle
Chambers had her students work on projects that will go through the 5 steps:
Brainstorm projects and write up a proposal.
Work on project until completion date.
Reflect on the project.
Negotiate mark with teacher.
Start Over
Proposal
Chambers requires her students to complete a proposal that includes the following:
The issue they will explore / come up with a solution.
Step by Step instructions that include a completion date and mini goals to get there.
At least 3 curriculum expectations that they will be covering as they complete the project.
How many points their project is worth.
Chambers felt the proposal was a life safer, but on the other hand, it is also pain in the ass. She explains, "Once the proposals are complete, they are what keep the students on track and give them guidance. It makes them accountable and really helps them to stay motivated (for the most part). However, getting the proposals completed is tough. Since students have never mapped out their own learning before, they require a lot of guidance and help. It is really hard for me to give each person / group the attention they need. There is one of me and 30 of them!! So I have recruited some former students, friends of mine who work from home, our former VP who is now retired, and a set of grandparents to come in and help me with this process. This has been a huge help, especially in the brainstorming stage."
Another challenge Chambers found is that "since the students started their projects at the same time, most students were finishing up their first projects all at once. This meant that I was having to negotiate / conference with students when they finished, but then they required help to get started on their next project proposal. This was very overwhelming for me, and I wasn't sure I was going to make it!! But we all powered through and got them all going on a second project. I am finding that now that we are at the mid way mark, most students have such different deadlines, it makes it so much easier. I have the ability to negotiate with only a few groups a week, as well as helping those who need it on their next proposal or those who need help on the projects that they are working on."
One good thing Chambers says is that students can start their projects once the proposals are completed and approved. She had to run around to each table and was tired by the end of the day.
Chambers says it became unmanageable when "trying to figure out who was finishing up, who needed to work on their reflection, who needed to negotiate, and who was starting the process all over again". She explained that "I had my students sharing their proposals with me in Google Classroom and was attempting to keep track of all of them there. I found this very difficult, so I decided to use the board below to keep myself and the students updated on who was at each stage. For a couple of weeks, I fixed this board up every morning and then would go over it at the beginning of each class. I found it very helpful for me for a bit and just recently found it hard to stay on top of. I have now abandoned this method and am trying out a new tracking method."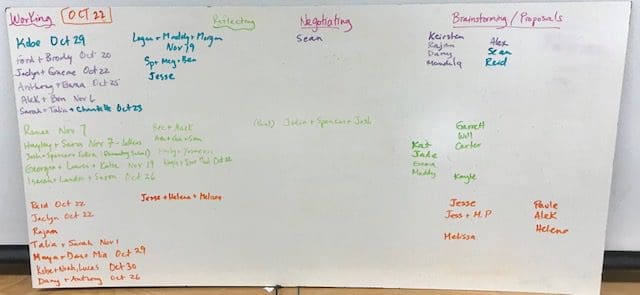 Chambers' new way of tracking where students are in the project is by having students "fill out a project list (they add their projects to it as they go), I ask that they hand write or print out a copy of their proposal, and I have created a file folder for each student to keep track of all of their projects". She said that "Now when they get a proposal approved, a copy of it goes into that folder, and I put what the project is, how much the project is worth, and when it will be completed into a spreadsheet. I have new whiteboards with every student on it with their project and dates, and I will update my whiteboards probably once every two weeks or so."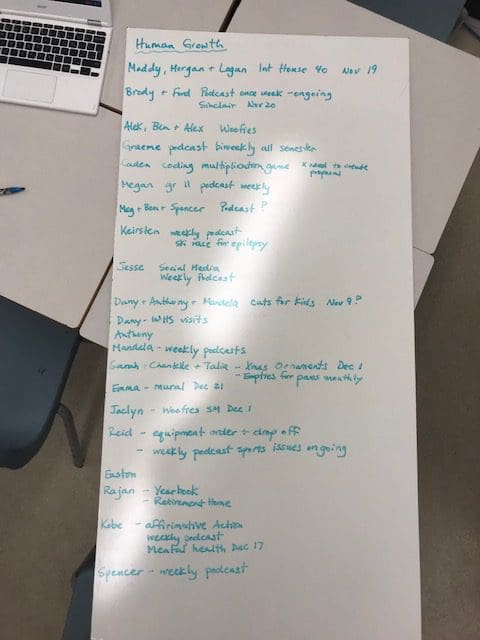 Chambers' final thoughts were "My next step is to create a Google form that I think I will fill out once the proposal is approved". She explained that "I am hoping that this will provide me with a spreadsheet where I can sort the students and keep track of each of their projects etc. We will see how that goes." She says, "We are very much in a trial by error / learn by failure situation in my classroom. If you have a PBL classroom and have any suggestions, I am SO open to any help you might give."
Conclusion
The 8 Key Elements of Project Based Learning are a look into what PBL consists of. I will dive into more PBL subjects in the future. I hope Rebecca Chambers experience helps you to start your PBL a little easier.
The Next Blog explores authenticity of a Project.